Regular price
Sale price
$18.99
Unit price
per
Sale
Sold out
Dietary Supplement

16 x 2 oz Servings

Not Tested on Animals
Share
View full details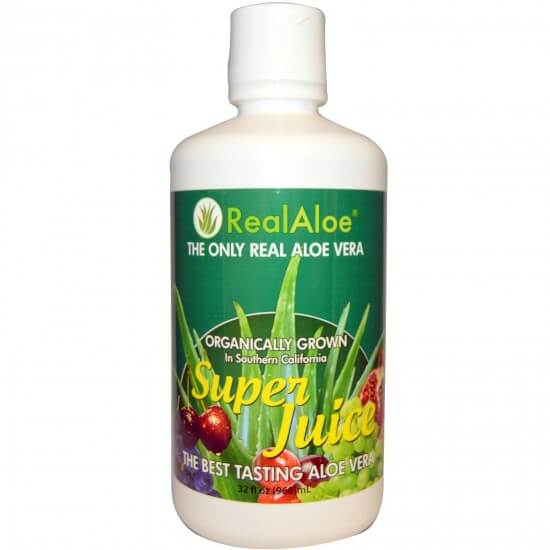 RealAloe® has been hand crafted since 1972. We use only fresh organic Aloe leaves grown in the U.S.A. The Aloe Vera used in our products has never been frozen, freeze-dried, or reconstituted from powder. We believe the original method of 'hand filleting' the leaves, allows us to maintain the maximum biological activity and effectiveness from the aloe leaf.
Real Aloe Super Juice description:
The Only Real Aloe Vera
Established 1972
Organically Grown In Southern California
Hand Crafted With Love
The Best Tasting Aloe Vera
Dietary Supplement
Gluten Free
Not Tested On Animals
American Vegetarian Association
Non-GMO Certified
100% Grown and bottled in the U.S.A. Real Aloe contains over 150 nutrients in a whole food form in trace amounts (parts per million or parts per billion).
RealAloe® contain no synthetic nutrients. Scientists have discovered over 150 nutritional ingredients in Aloe Vera that work together in a synergistic way to create healing and health giving benefits. The amino acids in Aloe Vera are the building blocks of protein and influence our brain function.
Other ingredients: Proprietary processed water, less than 0.5 percent citric acid.
Suggested usage: 2 oz, 1-2 times per day. Refrigerate after opening.
Recent studies show that taking supplements with Aloe Vera will increase the absorption of these supplements by up to 200% versus taking them with water.
Storage: Store away from heat.
Supplement Facts

Serving Size: 2 fl oz (59ml)

Servings Per Container: 16

Amount Per Serving
% Daily Value
Calories
10
< 1 %
Total Carbohydrates
3 g
< 1 %
Sugars
2 g
†
Vitamin C
3 mg
2 %
Sodium
10 mg
1 %
Real Aloe Vera Juice *
(Aloe barbadensis Miller - leaf inner gel)
Proprietary Process - 100% Hand Filleted
20 ml
†
Concentrated Juice Blend
White Grape, Pomegranate, Cranberry, Concord Grape flavor (natural) & Black Cherry flavor (natural)
10 ml
†
* Percent Daily Values are based on a 2000 calorie diet.
† % Daily Value not established.

Vitamins: Vitamin A, Vitamin B Complex, B1 (Thiamin), B2 (Riboflavin), B6, B12, Folic Acid, Biotin, Vitamin C, Vitamin D, Vitamin E

Macro Minerals: Calcium, Magnesium, Potassium, Phosphorus

Trace Minerals: Antimony, Barium, Beryllium, Bismuth, Boron, Cadmium, Cerium, Cesium, Chloride, Chromium, Cobalt, Copper, Gallium, Germanium, Gold, Indium, Iodine, Iron, Lanthanum, Lithium, Manganese, Molybdenum, Nickel, Niobium, Osmium, Palladium, Platinum, Rhodium, Rubidium, Selenium, Silica, Silver, Sodium, Strontium, Sulfur, Tellurium, Thallium, Tin, Titanium, Tungsten, Vanadium, Zinc, Zirconium

Amino Acid: Alanine, Arginine, Aspartic Acid, Cystine, Glutamic Acid, Glycine, Histidine, Isoleucine, Leucine, Lysine, Methionine, Phenylalanine, Proline, Serine, Threonine, Tryptophan, Tyrosine, Valine

Bio-Elements: Nitrogen, Oxygen, Carbon
Disclaimer

While RealAloe.com strives to ensure the accuracy of its product images and information, some manufacturing changes to packaging and/or ingredients may be pending update on this site. Although items may occasionally ship with alternate packaging, freshness is always guaranteed. We recommend that you read labels, warnings and directions of all products before use and not rely solely on the information provided.